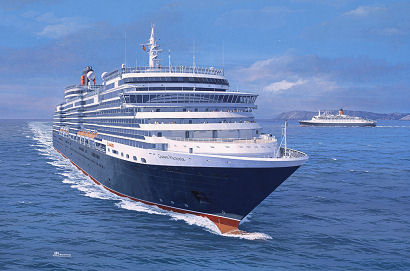 Throughout her later years on the North Atlantic, Cunard's Queen Elizabeth 2 cut a lonely swathe across the waters she was designed to traverse. Thanks to her foresighted dual-purpose design, clever marketing and iconic appeal as the 'last true liner', QE2 outlived all her sea-going competitors and seemed destined to be the last ever passenger liner to regularly ply the Atlantic. She also looked to be the final Queen in service for Cunard.
However, in 1999 a decision was made to build on QE2's unique success by adding a giant new transatlantic liner, Queen Mary 2, to the Cunard fleet. Then, almost four years after QM2 entered service in 2004 as the new Company flagship, she and QE2 were joined by another new ship, MV Queen Victoria. Thus, since QV's maiden voyage in December 2007 until QE2's retirement in late 2008, three mighty Cunard Queens sailed concurrently for the first time ever. (In late 2008 Cunard contracted yet another new-build, Queen Elizabeth, completed in 2010).
Unlike all previous Queens, which were unique one-off vessels, Queen Victoria was adapted from an existing design first created for Holland America Line's Vista-class cruise liners. While at 90,000 gross tons she is the second largest Cunarder ever built, Queen Victoria is in length and beam very similar to QE2, allowing passage through the Panama Canal.
Built as a 5-star floating hotel, Queen Victoria's magnificent interiors boast many pieces of artwork by some of the world's leading artists. Gordon Bauwens is honoured to be represented by 12 maritime works commissioned and selected for public areas aboard this latest Cunarder.
In addition to these, Gordon created his latest painting, Royal Rendezvous, for reproduction as Limited Edition art prints which retail aboard the new Queen. Featuring the debutante Queen Victoria and legendary Queen Elizabeth 2 passing at sea, the meticulously detailed prints contrast two distinct generations of Queens proudly flying the colours of one of the world's greatest shipping lines. As the much-loved QE2 retired in November 2008, the preceding months proved to be the last these two majestic Cunarders served together. This fact will further enhance the historic significance of this subject and ensure these beautiful prints are treasured for many years to come.
The Royal Rendezvous Limited Edition of 650 museum-quality prints are produced on 300-gramme pH-balanced art paper using light-resistant inks. Each is Artist-signed and numbered and comes with matching Certificate of Authenticity.