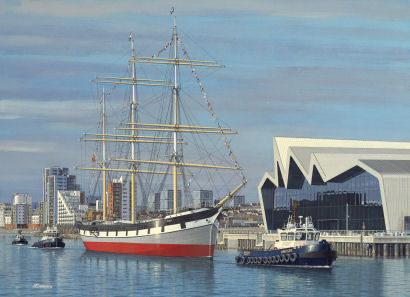 The shipyards on the River Clyde, famous for steam powered ships, also built some of the most technically advanced sailing vessels ever. These ocean-going cargo sailing ships were the equivalent of our bulk-carriers and, even as late as the 1890's, could still compete with the steam powered craft of that era.
During one decade in the late 19th century, over 270 square riggers and barques were built on the Clyde to ply the world's oceans. The three-masted barque, Glenlee, launched in 1896 from A. Rodger & Co's yard in Port Glasgow, survives as a fine example of these efficient yet graceful maritime workhorses.
Finishing her working career as a sail training ship for the Spanish Navy and renamed Galatea, she finally retired in 1969. In 1993 Glenlee returned to the Clyde for years of skilled restoration by volunteers and is now a popular visitor attraction moored alongside the new Riverside Museum of transport in Glasgow.
This attractive painting by Gordon Bauwens, showing Glenlee opposite the new museum, was commissioned by Frank Brown, a Glenlee Trustee. High quality reproductions, printed on heavy art paper using light-resistant inks, are now available as Artist-signed 'Open' edition prints.